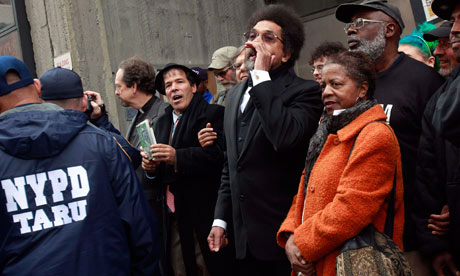 by
Ryan Devereaux
The police officer wanted him to dance. "Do the chicken noodle soup for me," he said. The officer claimed it was the only way he'd let John Hector go.
It was supposed to be a joke, but Hector didn't find it funny. After all, he and his friend were handcuffed in full view of the public. The pair were driving to get some food when they were pulled over by the police, who then forced them to sit on the kerb with their hands bound. They were never arrested, let alone charged with a crime. That's because they hadn't committed one. They were simply caught in an NYPD stop-and-frisk operation.
Hector is 25 years old. He's a military veteran and preparing to go back to school. He's also a young man of colour living in New York City, and like millions of others who fall into his demographic, he's been involved in a police stop-and-frisk situation despite not being involved in a crime. It's a problem Hector claims he's dealt with since he was 15, and one he says is endemic in his Brooklyn neighborhood.
"It's embarrassing, humiliating. People think you're a criminal before they even know you," Hector says.
"It's the 21st century and I'm getting treated like this? I'm a US navy veteran," he adds. "I could go fight for my country and come home and be mistreated? It's disgusting."
The day after he described his ordeal to the Guardian, Hector repeated the story for several hundred protesters gathered at Harlem's State Office Building. This time, however, he added one more point of information: "I don't have an arrest record, but I will have one today."
He was right. On Friday afternoon, Hector joined several hundred others in a demonstration against the controversial practice of police stop-and-frisks. The protest – which incorporated an act of non-violent civil disobedience – not only landed Hector in an NYPD paddywagon; it also led to the arrest of noted public intellectual Cornel West, John Jay College of Criminal Justice professor James Vrettos and approximately 30 other people. The demonstration was backed by supporters of New York City's ongoing Occupy Wall Street protest.
Stop-and-frisk refers to a common practice within the NYPD where officers detain people on the street, and, in some instances, search them. The department, along with the mayor's office, both contend that the stops have contributed to a considerable decrease in violent crime in the city, particularly in low-income communities and communities of colour.
In an email, NYPD spokesman Paul Browne wrote: "Police stops save lives, especially in minority communities which benefited most from the 2,734 fewer murders in the first eight years of the Bloomberg administration, compared to the prior eight. While murders and shootings are down dramatically from prior years in part because of police stops, young men of colour last year still represented over 90% of murder and shooting victims."
Opponents of stop-and-frisks, however, argue it is precisely those communities that are victimised by the policy. According to the New York Civil Liberties Union, 3 million innocent New Yorkers found themselves in a stop-and-frisk situation between 2004 and 2010. Last year alone, the NYPD made more than 600,000 warrant-less stops and is expected to top that number this year. On average, roughly nine out of 10 stop-and-frisks involve someone who has not committed a crime, and, more often than not, that person is a young man from a community of colour.
New York state senator Eric Adams has called on the Justice Department to investigate the NYPD's stop-and-frisk programme, which he argues is being abused.
"Over 90% of the people we stop, question and frisk have [been] found to have done nothing wrong at all. That would not be tolerated under any other ethnic group," Adams says. He argues that if, "11-, 12-, 13-year-old, young, white children," were stopped and searched by the police repeatedly, "the city of New York would not accept that."
Adams claims he attended a meeting that included NYPD commissioner Ray Kelly, in which the senior officer stated that the reason stop-and-frisk is instituted at its current levels is to "instil in every young man from those communities [black and Hispanic] that any time they leave their house they can be searched by the police."
"That's illegal," Adams says. "It's not the role of the police department to instil that level of fear in civilians."
The Guardian gave the NYPD the opportunity to respond in detail to Adams's claims. Specifically, we asked whether Adams had given an accurate account of Kelly's remarks, and if so, whether the commissioner would elaborate on them.
In an email, spokesman Paul Browne only said: "Commissioner Kelly said he wants gunmen to be deterred from carrying weapons on them in the streets, particularly in those communities most victimised by gun violence."
Anti-stop-and-frisk activists appear to have found an ally in the Occupy Wall Street movement. Scores of supporters of the protest in lower Manhattan made their way up to Harlem on Friday afternoon to join in denouncing stop-and-frisks.
The demonstrators met at the State Office Building, under the statue of Adam Clayton Powell, a former US representative for Harlem and the first African-American New Yorker elected to Congress. There, religious figures, local activist groups and individuals who had been subjected to stop-and-frisks voiced their collective frustration with the practice before marching to the nearby NYPD 28th precinct on Frederick Douglass Boulevard.
A number of the demonstrators made statements before the NYPD began a series of one-by-one arrests. Prior to being taken into custody, 25-year-old protester Jamel Mims energised the crowd when he revealed – through so-called "peoples' mic", the trademark call-and-response communication system adopted by the Occupy Wall Street supporters – "I may look like a rabble-rouser, but I'm a damn Fulbright scholar!"
Mims described growing up with a "terminal fear" of the police instilled in him by his mother. "I do this for the youth I teach," he said. "I do this for my mother, for all mothers. No mother should have to raise their child with their sights lowered. No child should have to grow up this way."

Mims was one of two protesters held overnight by the NYPD, charged with obstruction of government administration because he chose to go limp when the officers placed their cuffs on him.
"This is only the beginning. Next week: Brooklyn. After that: east Harlem, south Bronx," said Carl Dix, a lead organiser of the demonstration, as he was led away in in handcuffs.
"We won't stop until we stop stop-and-frisk," he vowed.
Adams believes the attention Occupy Wall Street supporters have directed at the NYPD's stop-and-frisk policies represents a maturing of the movement.
"I believe Occupy Wall Street started out as an infant, and matured overnight to understand that not only must they deal with the economic stability of the country, but you also have to deal with civil rights issues of the country," he said.
Speaking to the Guardian before his arrest on Friday, Princeton University professor Cornel West suggested the incorporation of the Occupy Wall Street supporters in efforts to counter policies such as stop-and-frisks could bolster the growing movement: "I think this is one of the ways in which we can deepen and expand the Occupy movement into communities of colour. The issue of arbitrary police power has always been the central issue in poor, black and brown and red and yellow communities."
West argued the Occupy Wall Street movement's struggle for justice necessarily targets more than just financial institutions, a sentiment that is shared by many who identify with the cause. "We're talking about a whole system," he said, "and the banks don't constitute the whole system."
Ryan Devereaux is a reporter for Democracy Now. This article originally appeared on the Guardian UK on October 24, 2011.