Obama
To kill a teenager is just unbelievable, really, and they claim that he is an al-Qaeda militant. It's nonsense
by Chris Floyd
It is not enough for the Peace Laureate to murder American citizens without charges, without trial and without warning; he must also murder their children too -- in the same cowardly, cold-blooded fashion.

Last week, Abdulrahman al-Awlaki -- an American teenager -- was ripped to shreds by an American drone missile in Yemen. The boy, like his father, Anwar al-Awlaki -- had not been charged with any crime whatsoever, much less convicted and sentenced. So what was his offense? He missed his father -- who had been in hiding from the Peace Laureate's publicly stated intention to assassinate him -- and he went off to find him.
by Chris Floyd
The president of the United States murdered two American citizens this morning. He had some nameless functionary -- who was sitting comfortably and safely at a computer console somewhere on a well-guarded, probably secret military base -- push a button.
A missile was then fired from a robot drone buzzing maleovently in the sky over Yemen. The missile then murdered two American citizens who -- let it be carefully noted -- had not even been charged with a crime, much less tried and convicted in a court of law of any offense.
Will Americans Remember Them? by Jill McLaughlin
View this and more art memorializing the victims of the "Global War on Terror" at 911globalmemorial.net
By Jill McLaughlin
As the 10th anniversary of September 11th approaches, Americans are receiving much guidance on how to feel, think, and act on that day. Nationalism is order of the day. For the U.S. to carry on its "war on terror" – really a war of terror for empire – it needs all Americans to fall into lock step with the guidelines for 9/11 commemmoration the Obama administration last week issued recently.
Two documents, which were also provided to the New York Times and reported on in an article,
White House Issues Guides On Sept. 11th Observances
were released to government agencies inside the U.S., and overseas. Both the documents stress that while remembering those who died that day, Americans should also be cautioned about the possibility of other attacks and that resilience is key in recovering from loss.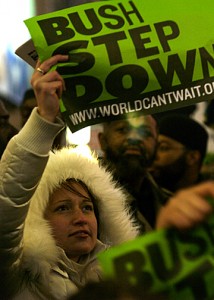 January 2006; Photo by Fred Askew
By Emma Kaplan
Watching all of the hype around Cheney, Rumsfeld and John Yoo has made me absolutely nauseated. And frankly, every single person who screamed at their television or had an Impeach sticker on their car when these war criminals held power should be just as nauseated.
These are the criminals that lied, broke the law and committed some of the most atrocious crimes against humanity comparable to that of Nazi Germany. And now they are gallivanting around the country, on the media and in NYC as "legitimate voices of authority."
The wars declared by both the Bush Regime and the Democrats who approved them, and which have been continued and escalated under Obama, had NOTHING to do with the safety of the people of the U.S.
Last night I attended a panel discussion at the New School in NYC featuring a a core of the heavy-weights at the Nation Magazine and frequent guests/hosts on MSNBC: Katrina vanden Heuvel, Melissa Harris-Perry, Eric Foner (okay, he's a professor/historian – not a personage of The Nation), Christopher Hayes, and John Nichols.
The event was a reflection on how the U.S. has changed in the ten years since the September 11th attacks. There were important insights brought out about how the mood of varied sections of the population was affected by the attacks ten years ago and how that mood and vulnerability was manipulated by those in power. There was also the occasional acknowledgment of the fact that the U.S. has been torturing people and waging wars that are immensely destructive.